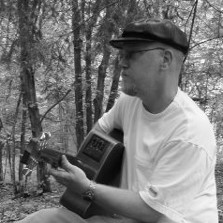 Tempus fugit. Greetings everyone! My name is Jeff Adams. If you do a Google search for the name Jeff Adams, a plethora of folks come up, all with the same name. All sorts of people, all different walks of life...there's a real estate dude, a football player, a mathematician, an author, and a few other musicians to name a few. I am not those people.
Still, the name is Jeff Adams, and my music is unique to my interpreted experiences, ideas, and perceptions – as well as inclinations of the muse. Irrespective of how many people have the same name, no matter what – we each have our unique contributions. My music is mine, and I hope you enjoy it! I have email links all over the place – like on the sidebar to the right.
The name "Jeff Adams – For Real ­®" was originally for the podcast and website but carried over to my artist title for my first three solo albums, at least to begin with.   So, a few of the albums on different vendors list my artist name as "Jeff Adams – For Real"; however, I no  longer use it as a stand-alone title of disambiguation as an artist. To quote the immortal Popeye, "I yam what I yam"…the "For Real" part is obvious.
Please buy my new first solo album release, Redefining The Parameters on iTunes, Amazon mp3 store, or Google Play, my second album release, Just A Second Now on Google Play, my third album entilted, Go With What You Feel, my fourth album entitled IV, the fifth solo album, just released, entitled, "Freedom And Liberty"…come to think of it, all the album links are HERE too! This includes another collaborative album called Dysfunction. There are more jam releases planned for the future too – both solo and collaborative – so check back soon!
Thanks for checking me out. Be sure to check out the Live Performances page too for updates as to where you can catch me live! Peace. Thanks for listening. Again, tell people about the music – it's catchy, eclectic, mellifluous, and rocks-out with some cool jams.