Archive for the 'Updates' Category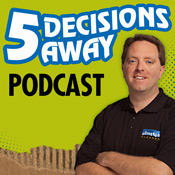 I wanted to give a shout out and big thank you to Matt Paxton of the
5 Decisions Away Podcast
for playing the song
Dead Dog
by Adams and McDonough in
episode #34,
entitled
The Other Bucket
. Matt & Cabell had some kind words about Chris' song and we were most grateful. They have  an awesome podcast over there in
The Steamer
(whatever the fuck that is) and provide an awesome service, so check 'em out! Thanks again!
Rather than keeping JEFF ADAMS – FOR REAL ® as a feed to release individual songs in podcast form, I'm going to turn it into an actual podcast. I'll still include original music in the form of live and unplugged stuff. Stay tuned, and thanks for listening.
Also, I just released my first solo album Redefining The Parameters which should be available in all the major online stores in the upcoming days and weeks. Please buy my album! Here's the iTunes link…thanks!